Gridshell outdoor classroom communicates climate change challenge
|
Send to friend
September 9 2021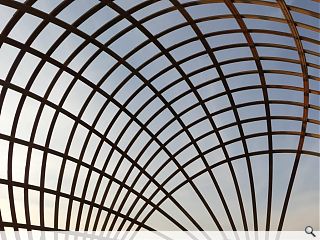 Artists residency Cove Park has unveiled an outdoor classroom overlooking Loch Long, designed to facilitate conversations around issues arising from a changing climate such as flooding and reduced biodiversity.
Conceived by architectural scientist Mae-ling Lokko and architect Tom Morton the timber temple is situated within the retreat's 50-acre Argyle estate, where a collaborative build process is underway that draws on the expertise of students and professionals in Ghana to deliver an environmentally friendly teaching space.
Facilitating conversations and responses through a public programme of outreach the gridshell construction will be clad in mycelium panels grown within Cove Park and includes extensive planting to minimise the impact on the landscape.
The concept was developed over a series of largely outdoor Future by Design workshops held by the Ashesi Entrepreneurship Centre, The Mackintosh and Royal Botanic Gardens to explore the design, processes and materials most suited to the hillside site.
Catherine Browne, landscape architect assistant & Future By Design Team member, said: "I have learnt about the existence of Scottish rainforests, collaborated with botanists, jewellery makers, architects and filmmakers, and had the rare opportunity to physically build my design on site."
The project is being delivered with the help of a young engineer from David Narro Associates and a landscape designer working with Erz.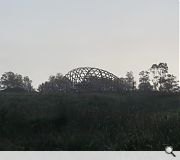 An international collaborative online and on-site process delivered the distinctive space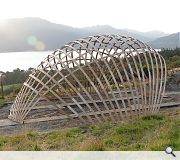 The hillside retreat seeks to inspire conversations and facilitate responses to the challenges of climate change
Back to September 2021