Cove Park: Mountain Retreat
17 Oct 2016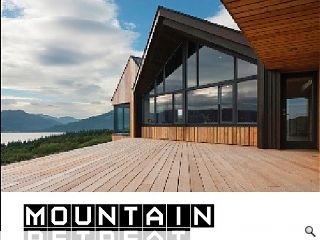 We've all thought to get away from it all but few ever get the opportunity. With completion of the Cove Park artist retreat however many more will have that chance. We take a look inside to see how good architecture can inspire creativity within its walls, whilst augmenting natural beauty beyond.

Artists from around the world have begun descending on a purpose built artist centre, the latest addition to a cluster of pods and shipping containers owned by Cove Park which nestle on a remote hillside on the Rosneath Peninsula. The centre inspires artists with open vistas of the Cowal Peninsula, Bute & Arran to spur creativity in a diverse range of fields; from poetry, writing and music to architecture.
Designed by Cameron Webster Architects The Jacobs Building is a timber kit larch clad structure built to both futureproof the charity for subsequent expansion and to enable a year round programme of residences to be offered to visiting artists drawn from around the world. The addition of two additional bedroom pods has increased residency numbers from 10 to 12.
Founded in 2000 by Peter and Eileen Jacobs Cove Park had laboured to fulfil its founding vision in a converted tea room and modular huts originally built for the Castaway TV show before pressing ahead with the £1.4m capital project, funded by Creative Scotland and others. The team has now moved into a larch clad, double height space offering expansive views through full height windows as well as providing meeting rooms, kitchen, library and crafting space.
Whilst the ethos of Cove Park is all about creation there are surprisingly few signs of that in the grounds or on the walls, the sole example being a rotting scale model of the Kibble Palace admired more by the sheep than the residents. Conceived during two residencies between 2013 and 2014 the temporary piece still sits incongruously in its surroundings.
Director Julian Forrester told Urban Realm: "The Kibble Palace is now in Glasgow's Botanic Gardens but it was actually built just below us on this peninsula as a kind of folly for Coulport House (since subsumed into the nuclear submarine base). When Alex was here he thought up the idea. It's the only piece of art on the site, we've rather shunned having any examples of anything; partly because we're about the people who are here at the time, not about people who were here at some other time – so it's an exception. Actually, it's rotting so it can't remain an exception for long.
"Otherwise we keep the site very simple, we are going to work with the Forestry Commission and others to make sure we grow more native species. There are a lot of invasive species such as Rhododendron which are anathema to the purists and they will (poor things) all be superceded by Birch, Alder, Rowans and other native trees. The building itself I hope reflects the idea of where it's built. The idea of a homestead with wood construction and a corrugated iron roof, the point being that it echoes the buildings that might have been here before it. The architects were very sensitive; they wanted the building to reflect this. It wasn't a monument to itself but let people coming to it feel ownership of it."
Outlining the genesis of the work project architect Stuart Cameron explained how the practice first won an invited feasibility study for a new centre before the long process of securing funding came to fruition: "We did a feasibility study initially looking at where to put a building on the site. There was a building already there but it was falling to bits. We came to the conclusion that where the previous building was sited was the perfect place because you have open views up and down the loch. It made sense to demolish the existing building and build a new one in its place."
These views come at a price however as the elevated site is also very exposed, as the contractors found out to their cost when the roof was blown off mid-way through construction. Cameron said: "just as we'd almost completed it the wind just caught and lifted the roof off. It's basically a big sail and if the wind gets into it it's going to do something. It's a windy, wet site so the approach we took was as a farm steading and that developed into the idea of a courtyard with the long wing of the building sheltering you from the wind coming up the slope. Initially it started out as a studio building forming the courtyard but that rationalised itself into an extended wing forming the bedrooms. The future plans (if money permits) will complete the courtyard, it was important to give a sense of arrival.
"The Scots Larch will weather to silvery grey over the years, it's a timber kit building and it's all fairly straightforward prefabricated roof trusses painted grey to try and disguise the metal multi gang plates which help hold these together. It was an aesthetic Cove Park wanted that wasn't too minimal or flashy but which was quite robust. "
A further benefit of building on the bones of the previous centre was the ability to re-use the existing substructure, which also ensured planning was a breeze. Cameron added: "It just took a bit of time to find the right materials to get us down to the required budget. You always need a screed laid over a concrete beam and block floor so it occurred to us we may as well lay it as concrete slab and grind it smooth to polish. With the south facing glazing it's a great heat absorber and heat sink in the winter."
At the heart of the building is a central snug and kitchen designed so artists can congregate and socialise, helping to propagate ideas. The previous building was completely unsuited to delivery of the artists programme and reliance on electric and LPG heating with poor insulation meant the centre was an ice box in winter. Now with the elements tamed courtesy of a wood pellet boiler and high performance insulation they can run a programme with a year-long calendar.
One of the first projects to be undertaken by the new look centre was a collaboration between a playwright, poet and musician and a Dutch architect even spent some time there – to study concrete of all things. Among the present clutch of residents is Max Warren, a Londoner exploring his passion for craft and design. He said: "I've had six weeks to explore new work. I've been looking at different strict geometric forms such as can be seen on churches and then trying to distort their highly crafted order."
This has seen him melting metals and experimenting with caramel wafer wrappers to craft a series of shiny and bizarre shapes, none of which are demanded by any brief, contract or show but rather arise spontaneously from time spent with nothing else to do. "It's a massive privilege to have this space and the time to explore things", says Warren. "Probably more than most disciplines we get very stuck in our mediums so it's good to find perspective if you're working with materials on how to file something or work out the quality of the silver. To step out of that and have a discussion in a broader sense is helpful."
Fellow resident Jessica Fox, a former storyteller at NASA, describes herself as a nerd whisperer, she now helps coordinate the work of scientists across 16 campuses and is currently staying in a bedroom pod overlooking a manmade pond where she has grown attached to two native ducks… both of which had gone AWOL since Fox took an interest. "It's so nice to be able to write and look at that, it's really a treat", she said. The pond, roaming Highland cattle and mating frogs form an ever present backdrop for Fox as she writes a middle grade mystery series celebrating engineering called the Theories which is set in the Victorian era. Fox explained: "The main character is a coordinated Inspector Gadget and he has a niece from China and they go around London solving mysteries; including the largest skull in the world going missing from a locked room with no windows - you have to figure out how that happens."
It's no mystery why Cove Park continues to attract nomadic artists seeking shelter from the ravages of the modern world and the new centre promises to allow those lucky enough to be invited a chance to experience life in an isolated landscape with all the comforts of home.
Back to October 2016