GSA students launch a class-action lawsuit to save their education
August 19 2021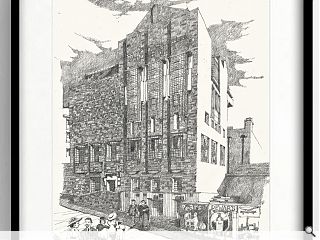 A group of architecture and design students have enlisted law firm Harper MacLeod to take legal action against the Glasgow School of Art (GSA) for failing to provide adequate tuition during the pandemic - after the Scottish Public Services Ombudsman rejected the complaint on all points.
The group of around 35 students have banded together as Art School Racket to take their case to court after growing frustrated at seeing their education suffer from remote learning and the cancellation of degree shows in favour of an online showcase.
Alleging 'underprovided education' the group have called out a lack of communication with tutors since being sent home during the first UK lockdown in March 2020, freezing students out of studio and workshop access necessary for facilities such as printmaking.
In their complaint, the group said: "We had no contact from our tutors for 10 weeks whilst other universities, like the University of Glasgow, were tutoring students online within a few weeks. GSA management instructed tutors not to speak to us during this time."
To support their legal action the group have launched a crowdfunding campaign backed by architect and former tutor Alan Dunlop, who has donated two drawings to help fund the fight. Dunlop said: "Thirty years in teaching has taught me that art like architecture cannot be taught remotely or on Zoom. You need studio access, direct tutor contact and the support of your peers. So, I'll be donating two original drawings from my sketchbooks, the two to be chosen by the students, in support of their crowdfunding appeal and their action."
The malaise at the institution comes amid ongoing fallout from a second major blaze in June 2018 which devastated the Mackintosh building.
Back to August 2021