C-listed Dundee manor saved by a residential intervention
August 19 2021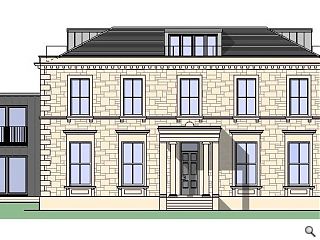 Proposals to redevelop the former Fernbrae Hospital in Dundee's West End conservation area have emerged at the hands of Patience and Highmore Architects with proposals to convert the C-listed Georgian villa back to housing by fashioning 17 flats.
The surgical intervention will see flanking later additions dating from the 20th century removed to be replaced with twin modern wings of accommodation, with a further mews style terrace of five houses to the rear and a lodge house entrance off Perth Road rounding out the accommodation as a detached residence.
Closed since May 2019 the building was last in use as a private hospital, necessitating significant interventions to strip away unsympathetic accretions and their replacement with more appropriate stone alternatives.
In a statement, the architects said: "The proposed new east and west apartment blocks have been designed to reflect the strong character of the existing stone listed villa while allowing it to remain the primary form at the front of the development.
"The demolition of the buildings to the rear of the villa and the introduction of a small scale 'mews' terrace of houses to the north will allow the creation of a more private communal amenity area at the upper northern end of the grounds which will relate on a more intimate scale to the new dwellings, in contrast to the formal garden grounds to the south. Proposed materials for the northern part of the site include facing brick and larch cladding which will help emphasize the more domestic scale."
Existing lawns, trees and landscaping will all be retained through the work to maintain the present setting of Fernbrae House.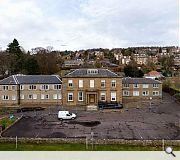 The setting of Fernbrae House will be respected while introducing more sympathetic accommodation
Back to August 2021