Ocean Terminal to be turned inside out to embrace Leith waterfront
August 18 2021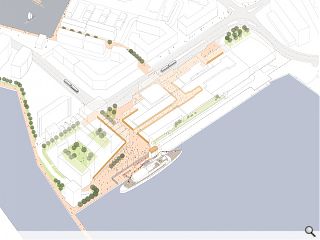 A pre-application notice to transform Edinburgh's Ocean Terminal into a gateway to the Firth of Forth has been filed by the Ambassador Group.
Having purchased the waterfront complex in March last year the new owners have spent the past 18 months assessing how best to revamp the 20-year old complex to take advantage of its waterfront setting, allocating an investment pot of £100m for the work.
The outline masterplan, prepared by Keppie Design, PMP and Turley, calls for the creation of mixed-use space on the site of an existing multi-storey car park and Debenhams store, presenting a new streetscape to the water, complemented by a planned distillery.
Opening up access to the waterfront by turning the current complex inside out, the work will benefit from new housing and the Newhaven tram extension to form what will effectively become a new town centre.
Chris Richardson, managing director for Ambassador Investments, said: "We're planning a transformational redevelopment that will finally realise Ocean Terminal's potential as a leading waterfront destination, whilst placing the changing priorities of residents, businesses, visitors and shoppers centre stage."
An online exhibition of the proposals is scheduled to take place on 23 September with a planning application to follow early in 2022. Phased delivery will then begin later that year.
Back to August 2021