Planted boulevard to seed Newhaven tram link
January 29 2021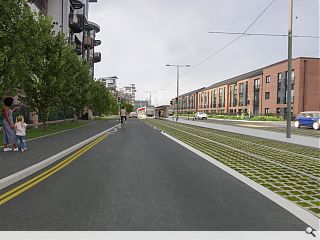 City of Edinburgh Council has published revised concept designs for a planted boulevard along Stevedore Place via Ocean Terminal as part of a planned tram extension to Newhaven.
A net gain of around 50 trees together with hedgerow planting will help green the arterial route, which will include a permanent graffiti wall as well as footpaths and cycleways.
Councillor Lesley Macinnes said: "We have worked closely with local community representatives to develop new designs for Stevedore Place, which will maintain the 'boulevard' feel on the street, with trees and hedges lining both sides. As well as replanting between 55 and 60 trees in the immediate vicinity, we'll also be able to plant even more trees in the wider area.
"We want residents to feel the maximum benefits of this project, and by locating a stop here we're providing an attractive and accessible option for all users, especially those with mobility issues. These new designs fulfil this while also retaining trees and green space for the people that live here."
Designed by Atkins the public realm work will begin next month with the removal of 30 trees to pre-empt the nesting season.
Back to January 2021