Royal College of Surgeons to erect a Covid-19 memorial sculpture
August 16 2021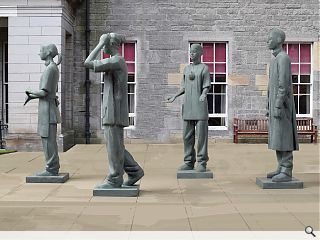 The Royal College of Surgeons in Edinburgh are to mark the successful containment of Covid-19 with the erection of a memorial comprising four life-size figures in bronze.
Crafted by sculptor Kenny Hunter the commemorative piece will replace an existing sculpture adjacent to the Playfair Hall.
Each sculpture will be supported on a foundation of concrete and stand on a 60x60m bronze base, extending to a total footprint of 2.4 x 4.2m.
Provisionally titled Your Next Breath the work has been conceived as a celebration of the compassion and resilience of healthcare workers in containing the Covid-19 outbreak.
To make way for the piece an existing 1994 sculpture, 'From Here Health' by Denys Mitchell, will be relocated.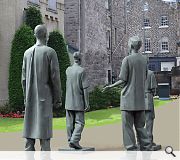 Four anonymous healthcare workers have been chosen to represent the profession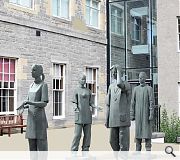 The four figures will stand in memory of the Covid-19 outbreak
Back to August 2021