Laurieston regeneration marches on with plans for 64 flats
April 20 2021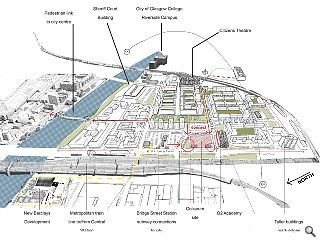 New Gorbals Housing Association (NGHA) and Urban Union have opened a pre-application consultation into plans by Reiach & Hall Architects to erect 64 flats on the site of the demolished Coliseum Theatre.
A key component of the Laurieston Transformational Regeneration Area the collaboration will see a mix of private and social housing delivered while also incorporating a community space and gardens.
Conceived as a simple perimeter block the presence of a subway tunnel skirting the north-west tunnel necessitates a cutaway portion in the building line, opening up connections and views through a central courtyard with prominent gables serving as street markers.
Outlining their ambition for the site NGHA wrote: "The Association seeks to develop a dense, city centre housing development which forms a key frontage for the Laurieston TRA onto Eglinton Street, while maintaining the architectural and urban design quality achieved in the Association's earlier phases on Cumberland Street/Margaret Street, and Gorbals Street."
Feedback must be received no later than 26 April with a live chat event taking place tomorrow between 15:00 and 18:00.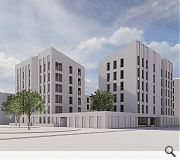 Community rooms currently in use on the site will be replaced by new facilities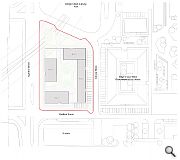 Four perimeter blocks will be arranged around shared gardens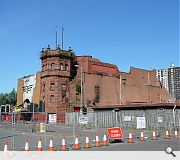 The Coliseum was demolished following a 2009 fire
Back to April 2021