Piling rig signals delivery of 126 energy-efficient homes
August 4 2021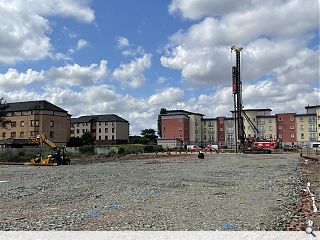 Artisan Real Estate has moved on-site with 126 energy-efficient homes at Rowanbank Gardens, Edinburgh.
Piling has already begun at the site of a former care home in preparation for the low-energy homes which embrace 'edible' gardens and sustainable forms of transport.
Designed by 7N Architects Rowanbank Gardens is arranged around a central orchard designed for communal planting and gardening. Apartments will look onto this space with green roofs further aiding the retention of surface water, improving insulation and enhancing ecology.
David Westwater of Artisan said: "Significant emphasis is placed on the quality of internal space and light to create enjoyable home-working environments, whilst accessible gardens and landscaping promote health and well-being by making nature and well-designed outdoor space integral to the day-to-day living experience.
"The site fits in well with Artisan's approach of regenerating brownfield sites with good public transport links and is well set to meet the council's stated requirement for well designed, high-density living whilst providing spacious communal areas and well-established public transport links ensuring low car ownership. There are also all-electric charging points for the provided car parking, City Car Club membership and generous secure cycle parking."
Back to August 2021