Plans lodged for 980 home Queensferry expansion
July 26 2021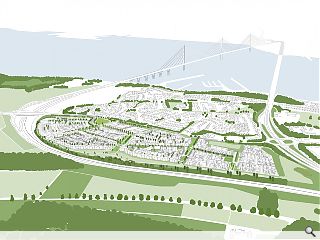 CALA Homes (East) is seeking full planning consent for a significant suburban expansion of Queensferry, delivering 980 homes along the southern edge of the town.
Plans include the creation of a new primary school, care home, supermarket, drive-through restaurants and a petrol station on land bordering the approach roads for both Forth crossings.
Keith Giblett, Chair of Queensferry and District Community Council, said: "The Builyeon Road site is the culmination of sizeable housing allocated to Queensferry by City of Edinburgh Council, and we look forward to receiving clarification from the council on how the sizeable financial contributions obtained from the various developments will be spent in our community, providing much needed improvements both diligently and timely such that the community can see the immediate benefits."
EMA Architecture & Design will prioritise pedestrian connections in the landscape design, focussed on a civic space suitable for markets, gatherings and events.
Planning permission in principle for the masterplan was awarded last month following a public consultation.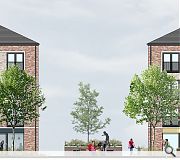 An active travel route will connect shops and homes
Back to July 2021