Twin residential builds on the rise at Edinburgh's Colinton Road
July 19 2021
Construction is now underway at a £6.2m twin residential and commercial development at Colinton Road, Edinburgh.
Led by Dunedin House Properties and Rutherford the Yeoman McAllister designed project is being built by Cruden Building East adjacent to Craiglockhart Leisure & Tennis.
The project will see 19 apartments delivered above two shops for Dunedin House in a contract valued at £5m, with a further five apartments and a Co-op store rising simultaneously on behalf of Rutherford.
Allan Callaghan, managing director of Cruden Building East said: "Edinburgh has so much to offer as a place to live, and we are working closely with Dunedin House Properties, Yeoman McAllister Architects and other key stakeholders to meet the evolving needs of the housing market in these unprecedented times."
Andrew Peters, managing director of Dunedin House Properties adds: "At Dunedin House Properties, we have a strong track record of procuring successful private developments and we continue to be mindful about appointing architects, designers and builders with an eye for quality."
Completion is expected by early 2023.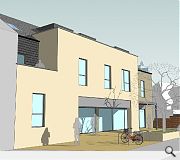 The joint residential build will deliver three ground floor shop units
Back to July 2021