Crewe Toll infill apartments to lien Telford Path
July 19 2021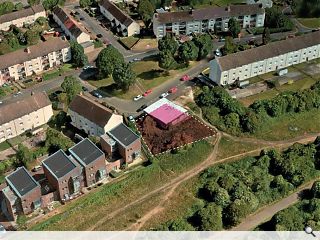 Affordable housing developer Cullross and the Port of Leith Housing Association are heading plans to erect 11 apartments at Telford Drive, Edinburgh, on the site of a disused convenience store.
Led by jmarchitects, the design solution calls for an infill build to blend in with neighbouring local authority and housing association accommodation while addressing the Telford Path walking and cycle route.
Outlining their design approach the architects wrote: "It is intended that the development will have a contemporary, modest appearance appropriate to its use and residential context.
"The designs have been developed with a simple and restrained palette of good quality materials"
Ranging in size from 53 to 77sq/m the apartments will have access to communal gardens, largely finished with render to the majority of walls with sparing use of brick on the front projecting block and base courses.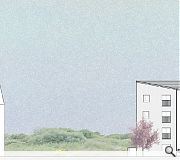 A plot to the immediate south has been identified for future development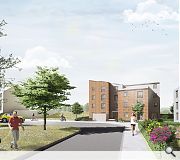 A restrained palette of brick and render is to be used
Back to July 2021