Barnardo's Gap Homes initiative comes to Stirling
July 20 2021
O'DonnellBrown Architects are taking their innovative supported living collaboration with children's charity Barnardo's to Stirling with plans for residential accommodation at Shirra's Brae Road.
An application for five homes has been filed with the local authority for the latest Gap Homes project, offering bespoke accommodation for young care leavers for up to two years to build independence.
Located to the south of an existing Barnardo's office in the city the homes will work with their suburban context with pitched gables defining the street edge with access via a landscaped courtyard to the rear defined by the housing and existing offices.
Comprising one staff house and four one-bed homes for young people the linear design ensures each tenant has their own front door through a colony-style arrangement that provides access to upper flats via an external stair. Exaggerated ground floor openings help to differentiate lower and upper floors with timber-clad openings contained in two setbacks permitting additional ventilation while maintaining privacy.
In a massing statement, the architects wrote: "The arrangement of the external and internal stair which serves the upper flats provided the opportunity to introduce a break between the three gables. The break defines the stair and entrance on the courtyard elevation but also reduces the apparent massing on the street elevation."
Gable windows will present occupants with open street aspects with living spaces facing south and kitchen/dining areas overlooking the courtyard.
The Stirling venture follows the acquisition of land in Maryhill for a sister Gap Homes project.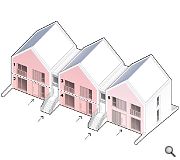 Colony-style homes permit each flat to have its own front door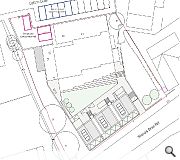 Surplus land fronting Barnardo's existing premises has been selected for the build
Back to July 2021