Fire-ravaged Glasgow Golf Club rises from the ashes
July 15 2021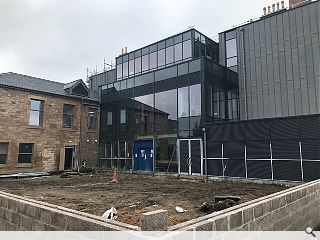 The historic Glasgow Golf Club in Bearsden has risen from the ashes following a devastating 2018 blaze with the completion of engineering works to stabilise and strengthen the surviving structure.
Engineering work overseen by Will Rudd Davidson has seen the three-storey clubhouse on Killermont Avenue reinstated, incorporating as much of the surviving listed building as possible.
The painstaking process saw existing stonework salvaged with steel window lintels and internal load-bearing masonry helping to shore up the weakened facades. The complex build necessitated inserting a new build structure within the historic skin with care taken to marry modern and period materials while upgrading services to current standards through the provision of passenger and catering lifts.
MJ O'Shaughnessy, managing director at Will Rudd Davidson Glasgow, said: "This was such a prestigious project to be involved in, with Glasgow Golf Club being one of the oldest golf clubs in the world and steeped in heritage. It involved extremely complex conservation engineering works and having both the temporary works and permanent works design in our remit, allowed us to bring the added value of our conservation experience and retain the main carcass of the existing building that could have collapsed otherwise.
"We are really pleased that club members can finally move out of their temporary accommodation and return to the grand setting of the clubhouse."
A large extension has also been built to the rear to designs by Wellwood Leslie, as well as a freestanding steel terrace offering views across the opening tee.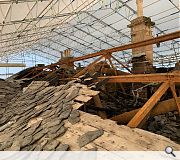 The dangerous roof was carefully dismantled, preserving surviving slate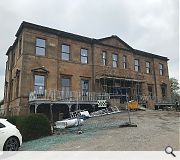 The front facade has been restored as close to its original appearance as possible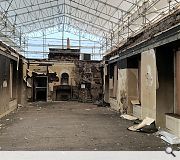 The interior was gutted, necessitating a building within a building approach
Back to July 2021