Glasgow Golf Club set to rise from the ashes
|
Send to friend
July 18 2019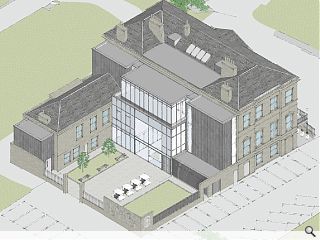 A fire ravaged B-listed golf clubhouse in Bearsden is to be reinstated under proposals to renovate and extend the remaining shell.

Severe damage stemming from the event on September 2018 has left Glasgow Golf Club homeless while it considered its options before the appointment of architects Wellwood Leslie in January to lead a design team to retain and enhance the current structure with a range of new facilities.

Occupying the former Killermont House the clubhouse adopts an L-plan form wrapping around a courtyard and enclosed by surface parking to the sides and rear. A layout which will be maintained save for the attrition of a contrasting new build extension on the footprint of the old finished in glass, aluminium and zinc.

Justifying the new extension the architects wrote: "The proposed design creates a new central approach and entrance to the building from the north side. The new entrance reflects the classical formal entrance to the building to the south side but in a contrasting, contemporary manner.

"The proposed extension is designed to extend from the existing façade below the line of the dentilled cornice to ensure that existing architectural detail is retained. The proposed extension remains wholly below eaves level to ensure that the extension is subordinate in scale and form."

The new extension provides a grand entrance hall providing access to golf facilities, administrative offices and a staircase to ground floor level at basement level.

It is hoped that reinstatement works may begin in October 2019 for completion by September 2020.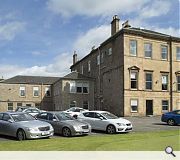 The footprint of the old club will be extended with a new extension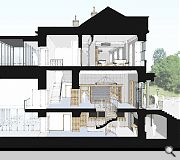 The opportunity will be taken to introduce a range of new facilities
Back to July 2019