Microplastic sponge, data farms & seaweed gardens lead student prize
July 14 2021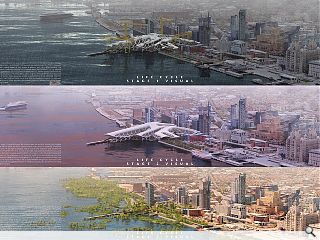 Five students from five UK architecture schools have been shortlisted in an annual student awards programme organised by 3DReid.
This year's search drew 33 nominations from tutors across the country who put forward their best part II students for a chance at grabbing a £1k prize for their efforts. The anonymous competition saw all entrants judged anonymously on the basis of impact, innovation and communication, with judges favouring work that addresses societal concerns in new ways.
Finalists include Daniel Hambly of de Montfort University in Leicester who has conceived of an innovative solution to a rising tide of plastic waste on the River Mersey with Transient Plasticity, a recycling centre in the heart of Liverpool capable of absorbing waterborne microplastics from what was recently named the most polluted river in the world for plastic waste.
Harrison Lowthrop of Northumbria University entered the final 5 with Finding a Balance, a socially focussed masterplan to regenerate the Isle of Ulva by harnessing woodland resources.
Jake Cripwell at the University of Westminster, London, won over the panel with The Creeping Seaweed Gardens inspired by a wave of illegal allotment settlements which sprouted in post-war Berlin. Rediscovering this lost gardening culture today the work explores how cities planting can minimise the severity of flooding.
Also in contention is Louis Lupien of the University of Cambridge with Interplay which seeks to bring emotion back to the built environment, imagining an alternative future for a Paris suburb to inspire residents to love their surroundings in the process.
Finally, Tiia Partanen of the University of Strathclyde, Glasgow, is recognised for Cloud Cooperative, a bid to redress an imbalance in the ownership of data to give individuals greater say over their digital footprint through the provision of community-run data farms.
A winner will be chosen on 22 July following a virtual presentation from all finalists to the judging panel.
Back to July 2021