Promenade pivots Dumbarton back towards the River Leven
June 17 2021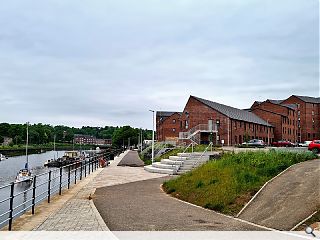 A waterfront promenade has reconnected the town of Dumbarton to a stretch of the River Leven for the first time in over 150 years following the completion of adjacent affordable homes.
Engineers from Will Rudd Davidson (Edinburgh) were enlisted for the difficult task of rebuilding the old quayside at the former Ballantine Whisky Distillery, a process that involved removal of slipways and foundations dating from the sites use as a shipyard in the 18th and 19th centuries.
Upgrades were then carried out to the quay walls and dry dock revetments (a land backed slope designed to absorb tidal energy).
Craig Milne, Director, Will Rudd Davidson (Edinburgh), said: "This project is an exemplar of how a derelict site can be remediated and brought back to life. In addition to the quay wall improvements, extensive groundworks were undertaken to remove the contamination, and piled foundations with ground beams were installed in preparation for the main residential development.
"The site delivers a major improvement to the infrastructure of Dumbarton, with a new walkway and cycle path connecting the development with the town centre."
In all 150 affordable homes have been provided to designs by jmarchitects for Dunbritton Housing Association including a new headquarters for the provider. A further 45 homes were delivered on behalf of West Dunbartonshire Council.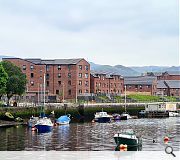 Engineering challenges were overcome amid tight financial constraints
Back to June 2021