Origami Swans to sculpt behaviours at Tillydrone
June 17 2021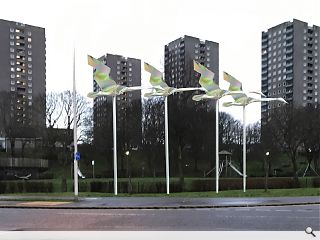 Fife sculptor David Annand has filed plans to set four giant origami swans in flight in Aberdeen as part of the Tillydrone Gateway Project.
Kirigami Swans will see four metallic swans mounted on poles near the foot of the south end of Diamond Bridge, as a local landmark for motorists while encouraging people to obey the speed limit and make use of nearby footpaths.
Modelled on folded origami swans the £50k project references the paper mills which once stood in the area and were chosen following an online poll of residents.
With a 2m wingspan each stainless steel plate swan will rest on 10cm wide stainless steel poles, each 50cm shorter than the next, with the tallest rising to 4.5m.
Based in Kilmany Annand is known for his gravity-defying works designed to convey vulnerability and precariousness.
Back to June 2021