Backcourt build to fill out an Edinburgh tenement
June 14 2021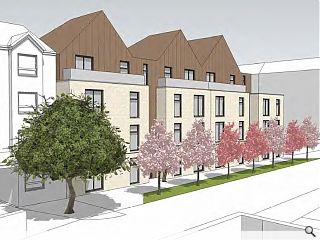 A run of light industrial units at Baronscourt Road, Edinburgh, has been earmarked for 19 car-free flats under plans filed by Oberlanders Architects on behalf of Caledonian Heritable.
Situated off Portobello Road near Meadowbank the works would repurpose the backcourt by sweeping aside the current sheds in favour of a new build block in brick and rolled metal cladding behind a C-listed red sandstone tenement.
An attic floor will be set back from the building line to limit any detrimental impact on sunlight to neighbouring gardens with 468sq/m of land retained as communal amenity space, accessible via an external path to the east gable.
Setting out their proposal Oberlanders wrote: "The majority of the building will be four-storey to relate to the scale of the adjacent tenements. The mass of the building will reduce to 3 storeys at the east end to acknowledge the proximity of the tenements on Piershill Terrace.
"The fourth floor will be detailed metal-clad attic storey and will be set back from the main façade to reduce the scale from street level."
A commuted sum will be paid in place of any on-site affordable home provision.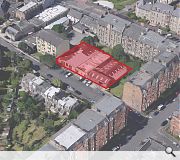 A collection of warehouses and light industrial units will be replaced
Back to June 2021