Killearn mansion crowned Scotland's Home of the Year
June 10 2021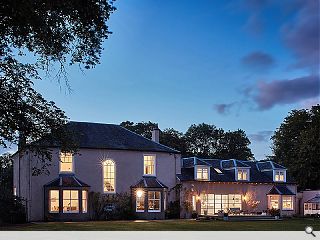 A Georgian mansion in rural Killearn has been crowned as Scotland's Home of the Year by BBC Scotland following an extensive refurbishment by its owners.
The Moss is a C-listed seven-bedroom home sitting on 25 acres of grounds but was left in a rundown condition when acquired by interior designer Karen Welstead, together with her husband Matt, their daughters Cora and Marnie and son William. Over the past year an exhausting renovation programme saw the manor painstakingly upgraded into a modern family home while retaining period features.
This approach won over the judging panel who unanimously awarded the property the title, beating off competition from eight other finalists from around the country.
Architect and lecturer Michael Angus, who served on the judging panel, said: "There were so many exceptional homes in this third series of SHOTY. Many exhibited the same level of decorative invention and individualism as The Moss - yet this property managed to balance that self-same care and exuberance reverentially to the house, in a manner that both respected the historical resonance of the building but also brought fresh interpretation, especially to the formal qualities so intrinsic to homes of the period.
"Moreover, and especially, where each room was a tour de force of decor and furnishing, the spaces between, the halls and passageways, were left simple and plain, almost austere, compositionally establishing a delightful counterpoint and allowing the whole to breathe."
Reacting to the win Welstead added: "I am inspired by Scandi designs - my mum is Norwegian - and I always find hotels inspiring. Art plays an important part in helping me put rooms together, be it working with the colours or providing a contrast.
"A home should be a reflection of the people who live there. It should keep memories and provide a welcome and comfortable place for a family to live, to grow and to entertain. I also have a thing about how homes should make you feel - they should elicit responses. I want my kitchen to feel organised and invigorating, the dining room to be glamorous and a bit sexy and the bedroom to be calm and inviting."
Produced by IPC Media Scotland's Home of the Year is available to view now on BBC iPlayer. Photography by Paul Tyagi
Back to June 2021