Black Cart active travel bridge connects Inchinnan, Renfrew & Paisley
June 1 2021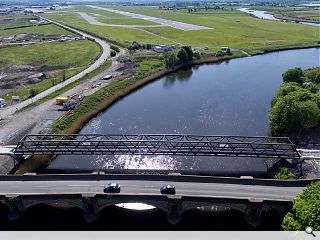 Renfrewshire Council has completed a new pedestrian and cycle bridge near Glasgow Airport, facilitating active travel between Inchinnan, Renfrew and Paisley.
The finishing touches are now being made to the Black Cart crossing takes the form of a 160-tonne steel structure with a 100m span and forms part of efforts to improve infrastructure around a new manufacturing innovation district.
Spearheaded by Sustrans the link is complemented by junction improvements at Abbotsinch Road to accommodate shared pedestrian and cycle facilities. Wills Bros Civil Engineering is currently installing a permanent bridge deck and finalising road realignments in anticipation of the route opening to the public later this year.
Jonathan Wills, director of Wills Bros Civil Engineering said: "Improved routes promoting cycling and walking is an important part of the project and the new pedestrian and cycle bridge over the Black Cart river is designed to create a safe, accessible route which we hope will prove popular over the coming years."
A sister crossing of the White Cart River is being developed in tandem to open up access for commercial traffic into the manufacturing district as well as facilitate cycle and pedestrian journeys between Paisley and Renfrew.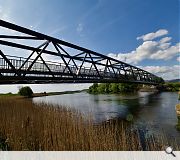 The bridge was installed over the Bank holiday weekend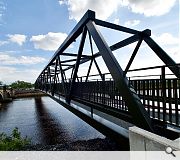 The route may ultimately be extended to connect with Bishopton
Back to June 2021