New neighbours set for Falkirk manor house
June 1 2021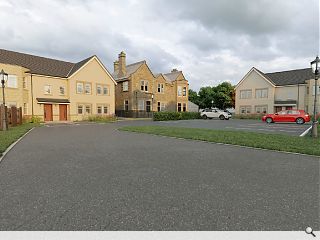 A change in ownership has rekindled efforts to develop land around a previously developed stone manor house at Underwood Court, Falkirk, to provide a mix of eight apartments and one home.
Supplanting an expired 2010 consent the work will follow the same course as set out initially save for an increase in the massing of the detached home to two storeys and replacement of common stair access with external private access doors. The parapet design has also been reworked to eliminate potential water ingress issues.
In a statement, Stuart King Architecture and Design wrote: "Built in Timber Frame Construction it is proposed the elevations will be rendered cream to match the render on the existing House Some front Elevation Windows will have render bands. Ground-level to sill and Bays will be built in Smooth Ashlar reconstituted stone and the roof will be in Spanish slate. Windows will be white UPVC sash and case with horizontal mid-rail to reflect the sash and case proportion."
Boundary walls will be repaired but otherwise retained as existing.
Back to June 2021