Integrated arts hub to stand as the centrepiece of Pennywell & Muirhouse
June 2 2021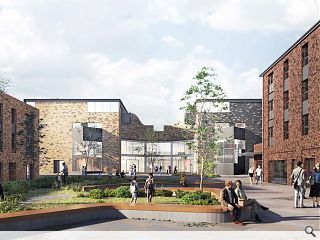 The City of Edinburgh Council has received plans to build an integrated community hub at MacMillan Square as part of ongoing regeneration around Pennywell and Muirhouse.
Delivered in partnership with North Edinburgh Arts, who will occupy part of the building, the Richard Murphy Architects designed venue will also incorporate an early years centre for 185 children, six apartments and a library.
In this way, it will be possible to draw together both arts and learning with a workshop, classrooms and studio spaces sitting alongside a cafe and youth centre. It is envisaged that the finished design will employ a brick frontage that segues from light to dark.
In a materials statement, the architects explained: We felt that within the overall single entity of the new hub building - it was important that there was a sense of the individual identities of the major parts - particularly Arts Centre to the south and Library to the north. We developed an idea that the colour of the brick might gradually change from one side to the other - affectionately known as the 'shoal of fish'."
Elsewhere the upper floors of north and south-facing residential and studio accommodation will be finished in zinc with all six flats having access to a private garden shared by residents and artists designed by Wardell Armstrong.
The centrepiece of a new civic hub the area around the planned community centre is currently being developed to provide a new square, 154 homes and 13 shops.
Construction is expected to commence early next year, following the demolition of the existing library, to complete by mid-2023.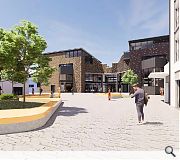 A distinctive 'shoal of fish' pattern of brick will be used for the public frontage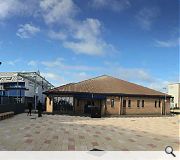 The new hub will sit more harmoniously within its evolving context
Back to June 2021