Westpoint Homes fight back against Finnieston planning refusal
May 24 2021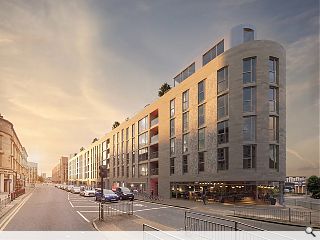 Westpoint Homes have revisited their plans for a major apartment complex at the former Cranstonhill Police Station in Finnieston with moves to improve amenity, privacy and access.
Led by Norr and Erz the work called for the demolition of the vacant police station at 945 Argyle Street to build 84 flats above six ground floor commerical units but was dismissed because it would impede daylight and privacy of neighbours and was deficient in open space. Planners also voiced concern at the loss of a tree to the west, proximity of service access to a busy junction and the fact that 16 flats had no direct access to refuse storage or cycle parking.
Responding to this feedback the applicants have now returned with significant changes made to the original March 2020 application; notably a shared amenity deck at roof level and a reduction in massing towards the centre of the building.
Addressing the proposed amendments the applicant wrote: "The key matters discussed with GCC during the post-submission period relate to the building's mass concerning the proximity of the neighbouring Minerva Court building on the south side of Houldsworth Lane. In addition, the tight urban site restricts opportunities to provide high-quality amenity space which complies with IPG12 (interim planning guidance) requirements.
"This, in turn, touches on landscaping proposals and a need to show a well-considered and meaningful design for the areas of amenity which are proposed. Finally, any reduction in building mass will effectively reduce flat numbers which will result in reduced pressure on amenity, car parking and daylighting."
As a result of these changes, the number of flats offered is reduced from 84 to 78 while Houldsworth Lane will remain open to all, not gated as originally envisioned.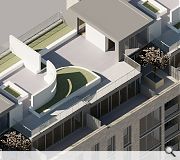 Amenity decks at first floor and roof level will expand the range of outdoor space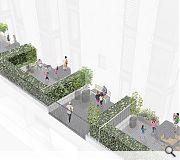 Private fifth floor balconies will run the length of the north and south facades
Back to May 2021