Westpoint Homes alight on Finnieston with 84 flats
April 1 2020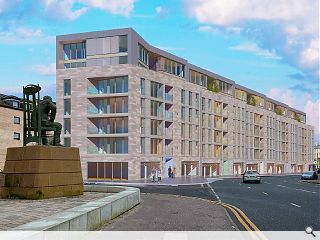 Westpoint Homes are targeting a former police station at Finnieston Cross for the delivery of 84 homes above ground floor retail.
Building on the recent Sanctuary Housing Association development the linear block will establish a commanding presence along Argyle Street, further extending the building line from the city centre.
Gables are afforded particular attention with deep set reveals, inset windows and angled balconies designed to act as a gateway to Finnieston from St Vincent Street. The opposing gable at Finnieston Cross takes a different approach, curving in symmetry with the A-listed St Vincent Crescent.
Finished in ashlar blond sandstone with setback upper floors formed from folded metal the scheme establishes its own rhythm with continous horizontal banding and sculpted aluminium entrance surrounds in varying colours with private balconies stacked above.
These will break out in deep setbacks at fifth and sixth floor providing shared external space and planting, including trees, which will be visible from the street.
In a statement Norr wrote: "This scheme is notable and relevant because it reintroduces low rise dense residential typology based on the tenement of the late 1800's whilst also reinstating the former street pattern lost post construction of the motorway.
"The original axis of Argyle Street is reinforced with a six to seven storey block and public pedestrian space. To the north, further housing association development is planned to complete the tenemental form on this side of Argyle Street."
20 of the flats will present a single aspect to Argyle Street, compensated for with a higher proportion of glazing and access to private balconies above the stair core.
At Finnieston Cross the gable curves in response to the A-listed St Vincent Crescent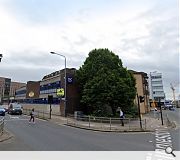 The original axis of Argyle Street is reinforced under the plan
Back to April 2020