Ayrshire colliery set to become an eco wellness destination
May 24 2021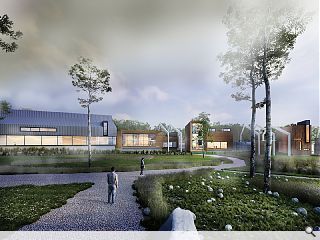 An abandoned East Ayrshire colliery has been selected as the location for an ambitious health and leisure attraction billed as an ecologically sustainable health and wellness destination close to the newly completed Barony Campus.
Led by social enterprise company National Pride with Scott Brownrigg Architects the Barony Eco-Therapy Wellness Centre will straddle the 108-acre Barony Colliery site, delivering a range of recreational amenities including a spa, exercise suite and craft workshops. A range of renewable technologies will also be pioneered such as geothermal energy harnessed from disused mine shafts to power local homes and a nearby hospital.
Irene Bisset, chair of National Pride said: "There is increasing recognition of the need for places close to nature for mental health and wellbeing, and the impacts of COVID-19 have made us even more aware of the healing power that nature can bring to our lives.
"Guests at The Barony will experience a safe, restful and enlivening environment in which to relax, rejuvenate and be healthy in mind and body, developing their mental and physical strength and personal resilience."
Working with natural woodland around the Lugar Water Valley the development will retain the Barony A-Frame, a giant pit-heading winding gear frame as a reminder of the sites industrial past. Historical links will be further strengthened with the rejuvenation of a memorial garden dedicated to the miners who lost their lives at the colliery.
A proposal of application notice is now in the hands of East Ayrshire Council and a dedicated project website has been established ahead of a planned consultation scheduled for 23 June between 14:00 and 19:00. All being well a tentative construction start date has been pencilled in for autumn 2022, which would permit completion by the end of 2024.
National Pride is a registered social enterprise community interest company and is simultaneously developing plans for a sister tourism and leisure destination on a 930-acre site at St Ninians and Loch Fitty, near Dunfermline.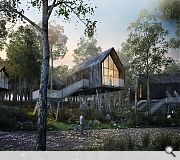 Education and training opportunities for vulnerable adults will be prioritised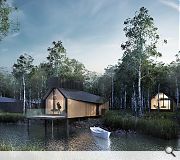 The landscape-led attraction will work to enhance the environment
Back to May 2021