Skye 'clachan' to address a shortage of family homes
May 4 2021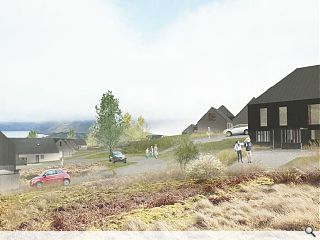 Olli Blair Architects have put forward plans for 16 family homes at Struan Road, Portree, on land to the northwest of the Bracken Hide Hotel.
Situated on the outskirts of the Isle of Skye capital the development will occupy the site of the former Portree Golf Course, which has lain disused since the 1950s.
Presently classed as vacant agricultural land the site will provide a mix of three and four-bedroom dwellings aimed at the local market, addressing an acute shortage of such homes on the island. Modelled on a Highland clachan the design solution proposes arranging properties around a communal landscaped area with homes following the site topology and employing five different style variants to eliminate monotony.
In a design statement, the architects observed: "The proposals are designed around a contemporary interpretation of a highland clachan using an architectural language of contemporary vernacular with a communal shared surface area at the heart of it designed to foster a sustainable community.
"The layout considers topography, orientation and views and offers a much needed high-quality addition to the family housing stock in Portree."
Harnessing a mixture of stone, timber and metal cladding the development will be marked by a new stone cairn marking the entrance to Portree on Struan Road.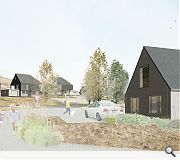 Prominent gables will be constructed from stone with sinusoidal metal roofing wrapping onto upper floors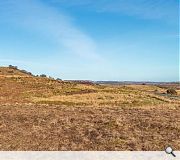 The moorland site is owned by the Bracken Hide Hotel
Back to May 2021