Architects take net zero mainstream with new housebuilding strategy
May 4 2021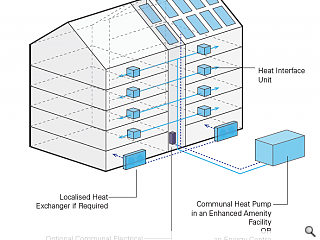 Anderson Bell + Christie has launched a new housebuilding strategy, guaranteeing net zero carbon emissions for new homes.
Utilising existing building specifications and widely available materials the scheme can be rolled out at speed and scale, slashing carbon emissions and fuel bills in the process.
Described as the first mainstream approach toward delivering the net zero standards the method is claimed to be deliverable at a premium of between 10 and 12% on current practise by relying solely on existing construction techniques. This has the dual benefit of preventing disruption to existing procurement and supply chains as well as being applicable across the board.
Jonathan McQuillan, director at Anderson Bell + Christie, said: "Scotland has ambitions to be a net zero society by 2045, therefore it is crucial that we change our approach. The standards we currently use on new homes may save some energy and reduce the cost of living, but they do not get close to achieving zero emissions. We need a new way to build affordable houses as we work to meet Scotland's housing needs. We need to facilitate net zero choices. We believe that a net zero society must start with net zero housebuilding."
Built around four key components the net zero concept centres on the building fabric, inviting housebuilders to adopt pre-selected energy-efficient specifications, with less effective measures dropped entirely. The practice has also pledged to provide zero emissions renewable heat, ideally in the form of communal heat pump systems for entire estates and regeneration areas. Solar panels are also specified to meet individual hot water demand.
Finally, Anderson Bell + Christie emphasises the role of individuals in helping to offset their energy use through measures such as active travel, electric cars, local food production and green roofs.
The strategy has been adopted by The City of Edinburgh Council to support its housebuilding programme while making good on a pledge to attain net zero carbon status by 2030.
Back to May 2021