Surgical intervention to bring Pollokshields school full circle
April 28 2021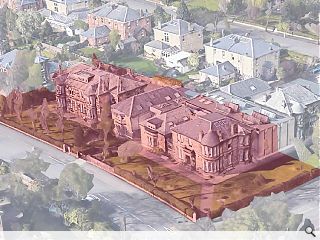 A former independent school in Glasgow's south side is to be given a second lease of life under plans by Wellwood Leslie Architects to restore the site to residential use, complementing a separate redevelopment of the nursery block.
Comprising a series of 19th-century villas the domestic character of Craigholme School will be restored through removal of later additions, with three individual villas restored as homes and duplex apartments.
Located on St Andrews Drive site in Pollokshields the work will retain the surviving historic fabric to enhance the character of the Victorian garden suburb, removing unsightly 20th-century infill and extensions in the process.
In a statement, the architects wrote: "The current school site has a relatively high density of development when compared with the surrounding residential area. A principle of development is the reduction of the plot density. Through the targeted demolition of the 20th Century additions, the area of the footprint of the buildings, compared to the overall site area, will be reduced from 32% of the site to 18% of the site, significantly increasing the amount of open space and bringing the site more in-line with the adjacent building plots.
"The external space created through the demolitions will become both private gardens for the villas and apartments and also shared amenity space with these spaces being given a treatment of high- quality hard and soft landscaping. Where appropriate, the boundaries between the different feus within the site will be defined by stone walls or hedges, in keeping with the surrounding area."
Natural sandstone, sash and case windows and natural slate will be specified for essential repairs post-demolition.
Back to April 2021