Edinburgh hotel expands above & below to meet social distancing needs
April 27 2021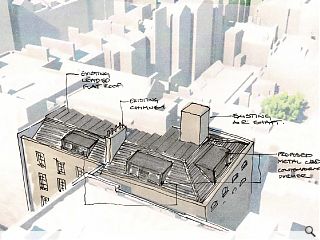 A newly opened hotel within an A-listed former courthouse at Parliament Square, Edinburgh, is to undergo a rooftop expansion to cater for social distancing demands.
Opened in 2019 the £7m 'CoDE - The CoURT' hotel was designed by LBA Architects with Morgan McDonnell Architects now handed the task of further altering and extending the property.
Detailing the need for action the architects wrote: " The applicant's business had initially thrived, however, due to the Covid Pandemic this has created unforeseen economic turmoil for the hospitality industry and in particular shared accommodation due to social distancing measures required.
"Therefore, the proposal seeks to increase the number of private en -suite bedrooms whilst removing some of the shared accommodation to help mitigate the forecasted drop in demand for shared rooms and bathrooms. This only amounts to a net gain of 2 occupants but allows more rooms for private use which will be better suited to post-pandemic demand and a wider target market."
Proposed changes include recreating the former John's Coffee House which helped to caffeinate the Scottish Enlightenment through the use of holograms, headsets and videos within the vaulted remains of a former Police headquarters below the building, creating a significantly enlarged lounge area.
At the same time, an underutilised attic area will have new dormer windows introduced to allow it to host new private rooms to accommodate displaced customers from the loss of shared rooms below.
Back to April 2021