Pollokshields villa to be returned to residential use
September 8 2020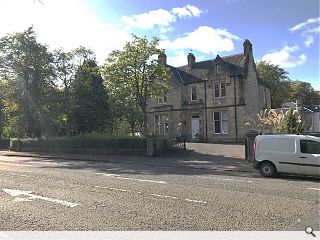 Studio KAP Architects have taken on the former Craigholme School Nursery in the Pollokshields Conservation Area to return the double-fronted Scots Baronial style Victorian villa to residential use.
Work to 62 St Andrews Drive will include a mix of internal modifications and an extension to rationalise the floorplan while maintaining the character of the area.
In their design statement the practice wrote: "In considering building within the conservation area, we are concerned by some approaches which seek to replicate the existing architecture in both form and detail, only to result in low-quality pastiche. Such examples expose the gap between the construction cultures of the 19th and 21st centuries and reveal how much impact small details have on the overall character and aura of a completed building.
"Whilst this approach may appear convincing to some when viewed from drawings, the attempt to replicate the character and detail of a Victorian villa without recourse to the construction culture of the time results in very poor reproductions which have no genuine character themselves and which, as a result, generate an uneasy balance with the existing buildings."
Works include demolition of rear extensions to allow a new both single-storey and double-height additions, with areas of tarmac uplifted and replaced by soft landscaping. New interventions will be built from masonry construction, standing as a 'complementary contrast' to the old.
KAP continued: "Two new additional wings compliment and secure the existing architectural presence of the original villa. This is achieved by a simple two storey pitched roofed and gabled wing replacing the current west-facing one storey wing and a one storey, west and south-facing parapet wing replacing the large existing conservatory. These two forms align themselves with the existing solid massing while adding a 'quieter' architectural language to the existing busyness of the Baronial stonework and surface decoration."
Plans also include a garden pergola bounded by a low-level brick and stone wall.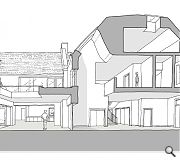 New additions will be built in complementary brick and stone in a contrasting style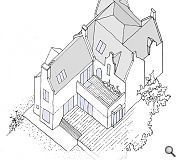 New additions will enhance the mansions relationship with the garden
Back to September 2020