Prince's Quay 'show village' opens its doors
April 19 2021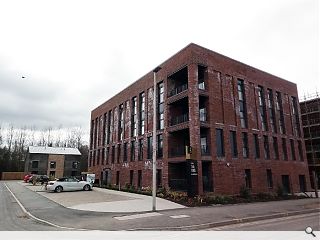 CALA Homes have opened a 'show village' at their Prince's Quay development on the former Glasgow Garden Festival site at Pacific Quay.
Prospective occupants can view a mix of properties from show apartments that have been dressed in complementary industrial styles to family-friendly townhouses.
Interior designer Alison Harding of AMW Design oversaw all three apartments, stating: "Drawing on the ambience of musicians, graffiti artists and the creative community lent itself well to the urban industrial design that we went for in the two-bedroom apartment.
"It perfectly suits the open plan living space and the generous bedrooms, allowing us to use a neutral colour palette offset with unique 'raw' wallpapers in concrete alongside bleached, distressed wood – completely contrasting with the warm leather fabrics of the sofas and the copper metal furniture and lighting.
"The graffiti styled artwork throughout really complements the overscale iconic images, like the David Bowie image in the main bedroom, and the music-themed retro posters throughout. They were our way of making a statement but having a bit of fun with the music theme around the development's location."
Designed by Haus Architects the development complements the creation of a media campus on the reclaimed docks.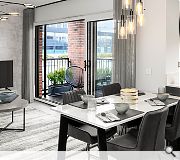 Apartments have been dressed to convey an urban industrial aesthetic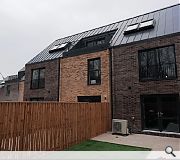 The mix of apartments and townhouses are among 203 homes being built
Back to April 2021