Young architects lead RSA architecture awards
April 15 2021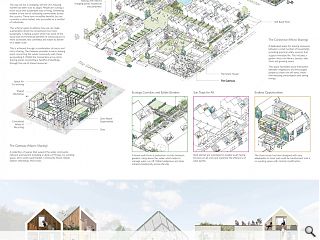 Chiara Fingland and Clare O'Connell from Studio LBA, together with Ellie Burroughs of Aitken Turnbull Architects, have won the Royal Scottish Academy Medal for Architecture for their work on the Home of 2030 design competition.
Recognised for the best work by a young architect, the trio were brought together under the Imagine If... research collective as part of efforts to resolve the housing crisis by putting forward design solutions for affordable, livable and healthy green homes which can be delivered at scale.
Central to the winning concept is support for the sharing economy and community assets to marry convenience with sustainability.
Fingland and O'Connell said: "We established the 'Imagine If…' research collective with colleagues Ellie and Eilidh, with the aim of opening a dialogue with the public on more sustainable housing marketing offerings.
"The entirety of the design process took place remotely during the first Covid lockdown and whilst it can often feel hard to work collaboratively in a socially distanced world, this experience really highlighted what can be achieved when you have shared passion and drive. The three of us had countless video calls and phone calls throughout the design process, making it a challenging but rewarding process. It is a great honour to have had our findings on how shared living could help us live more sustainably recognised with this award.
"The designs had to take a number of factors into account including; creating comfortable, healthy internal environments in homes, helping to respond to concerns on climate change in home design and building and ensuring quality and affordability."
This year's RSA award winners are available to view online with the RSA Architecture Prize for best work by an architect going to Elizabeth Hatz for the cast iron Permanence Portico/Table.
Back to April 2021