Net-zero Springboig homes to protect established landscape
April 16 2021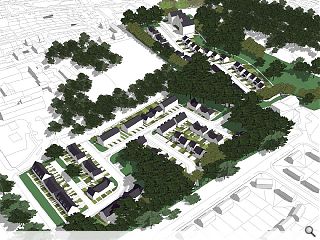 CCG, with Stallan-Brand and OOBE, is leading plans for 156 on a 6.5-hectare former boarding school site at Springboig, Glasgow.
Accessed from Edinburgh Road a mix of terraces, townhouses and detached homes will be built together with 32 apartments in a single block while protecting mature trees among 3 hectares of protected green space.
A hierarchy of development will deliver 'gateway scale' of up to four storeys to the periphery with lower rise homes positioned to the interior.
Outlining the selected site response Stallan-Brand wrote: "The rich green quality of the site is largely retained with roads and buildings carefully positioned to minimise their impact on the semi-natural landscape. Large areas of the existing semi-natural landscape are retained largely untouched, providing high-quality amenity space for residents. The new street network and footpaths will re-establish connections with the surrounding streets and community."
Working with Carbon Futures CCG will set a net-zero carbon target with a 'lean, clean and green' fabric-first approach adopted to minimise energy demand.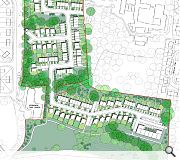 New homes will snake around mature woodland
Back to April 2021