CSY Architects complete transition to an Employee Ownership Trust
April 14 2021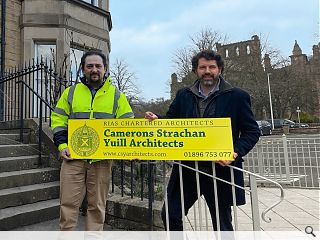 CSY Architects have established an employee ownership trust to act as a majority shareholder of the business, to the collective benefit of all 24 staff.
The management arrangement was supported by a loan from Triodos Bank and support from Co-operative Development Scotland, handing employees across Edinburgh, Dalkeith, Berwick and Galashiels a controlling stake in the business.
Formed from a recent merger between Camerons Architects, Douglas Strachan Architects and Bain Swan Architects the latest change will enable the practice to enshrine a values-driven approach to local design.
Douglas Strachan, joint managing director at CSY Architects, said: "By transitioning to an Employee Ownership Trust, we're ensuring that our values remain at the heart of everything we do. This enables the whole team to pursue a positive ethos of shared endeavour, valuing everyone's contribution and sharing in the success of the practice."
Rob Keegan, regional manager for Scotland at Triodos Bank UK, added: "As a bank focused on supporting sustainable business models, we see employee ownership as a tool to empower those within a company and to support their wellbeing. In addition, because employee-owned organisations are inherently transparent, they have a strong commitment to positive impact and an active involvement in the communities in which they operate."
CSY Architects specialise in working with community groups, housing associations and local authorities.
Back to April 2021