£7m Finnieston Crane restaurant to lift the River Clyde
March 24 2021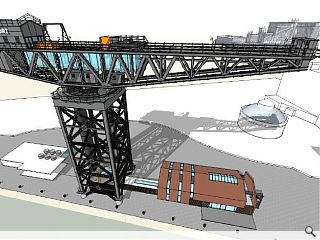 A rusting landmark on the River Clyde is set to become an important tourism destination Peel L&P agreed a sale of the industrial relic to community interest group Big Cran Co.
As part of the deal Glasgow City Council will administer £452k in funding for structural repairs to the Finnieston crane to permit its use for community-led activities such as a new museum and restaurant costed at a further £6.5m.
Allan Wilson, chairman of the Big Cran Co said: "This investment in the crane's future sustainability will assist our efforts to convert the crane and its immediate environs into a state-of-the-art visitor attraction on the Clyde and will complement the substantial Glasgow Waters development further downstream.
"The funding support from both Clyde Mission and Peel L&P will enable us to embark on phase one of our transformational plans for the crane and help us in creating new employment and training opportunities for local people, as we focus on the crane's role in the local economy's post-covid recovery."
Following in the footsteps of Clydebank's Titan Crane the work would see the fenced-off structure fully opened up to the public.
The plans have been drawn up with the assistance of Donald Bentley Architect.
Back to March 2021