Adaptive furniture solution is given room to shine
March 24 2021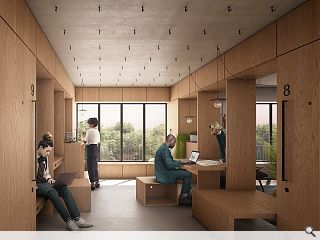 Graeme Nicholls Architects & Secchi Smith have been shortlisted for the inaugural Davidson Prize, launched last year in memory of Alan Davidson - founder of Hayes Davidson.
The partnership is among the first to be recognised by the awards platform, launched last year as a vehicle for elevating and rewarding novel architectural solutions for the home.
The shortlisted work draws inspiration from the spatially implausible world of C.S. Lewis in the novel 'The Lion, the Witch and the Wardrobe' by reimagining a humble storage closet as a Tardis-like portal.
Addressing the challenges of working from home, specifically the need to provide additional storage and segregate work and home life, the multidimensional furniture is designed to be installed in modest communal spaces in pre-existing apartment blocks such as hallways and landings.
Once in place, the adaptive design permits adoption by residents in multiple ways, be that working, living or socialising with neighbours.
Explaining how this works in practice the entrants wrote: " The design proposes a series of movable timber elements – doors, hatches, benches, and countertops. The kinetic elements are scaled to human proportions and allow shared entrance hallways to be modified to suit different situations.
"For example, you could open a hatch from your kitchen to have a morning coffee and chat with your neighbour across the hall, or you could pull out a desk and set up your workstation for the day outside the confines of your everyday living space before packing it all up and 'heading home' for the evening, providing a psychological transition between home and work."
The winner is set to be revealed in June 2021.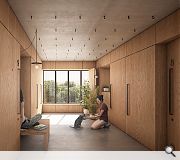 Adaptable partitions give residents the chance to recreate their daily 'commute' without leaving the building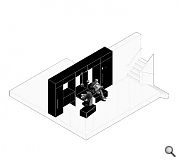 Multiple configurations allow components to be neatly stored away or folded out for use
Back to March 2021