Pollokshields estate renewal programme to proceed
March 23 2021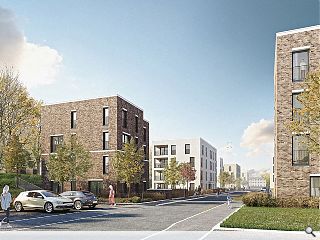 Glasgow City Council has awarded planning consent to jmarchitects for the next phase of a major estate renewal programme in Pollokshields.
Southside Housing Association will build 120 homes in two phases, demolishing 1960s deck access buildings in favour of new build 'urban villas' that are more in keeping with the planned suburb.
Explaining the need to start again jmarchitects wrote: "The decision by our client to commission the development of a newbuild residential taken following early options appraisals and test project to assess the retention and refurbishment of the exiting 1960's deck access buildings. Despite, the refurbishment of the adjacent St Andrew's Crescent, which improved the existing building by delivering improvements in building fabric, insulation levels, incorporated sunspaces and created dedicated secure sharded garden facilities, the refurbishment could not solve the fundamental issues associated with the existing stock.
"Due to the limitations of the existing building measures could not be adopted that would improve the space standards or the future adaptability of the properties to accommodate the changing needs of residents."
Building on the already completed phase one works at St John's Quadrant the next step will be to build seven apartment blocks within newly landscaped grounds on land cleared in 2018, ahead of phase three work at block Maxwell Drive where a further seven blocks are planned to break up the street wall.
Accommodation will comprise a mix of shared equity and social rent with each 'villa' adhering to a simple palette of brick with precast detailing and vertical Siberian larch cladding to the rear walls of recessed balconies.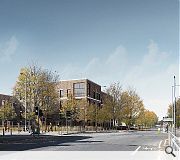 A spoil heap is all that remains of deck access flats fronting St Andrew's Drive following their demolition in 2018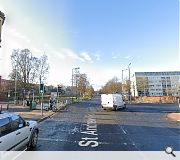 Work will restore the urban grain of the area as set out by the Stirling Maxwell family in 1849
Back to March 2021