Feedback sought for 73 affordable Dundee homes
March 22 2021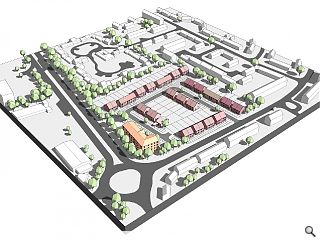 Affordable homes specialists Cullross has teamed up with Caledonia Housing Association to bring forward residential plans for a 2-hectare former industrial site opposite the Kingsway retail park at the junction of Ballindean Road and Douglas Road.
Retaining mature trees to the site perimeter as a green buffer the chosen approach will see jmarchitects deliver an apartment block of 24 flats to the principle corner with a further 49 houses lining an interior no-through road, all of which will be made available for affordable rent or sale.
Detailing the chosen approach the applicant wrote: "The development aims to create a sense of place by maximising the site's potential for housing while being considerate of the urban fabric. This is achieved by retaining and improving the green buffer zone along the western boundary with Douglas Road.
"By doing so the development aims to create a strong sense of place and relationship with the surrounding residential properties, as it forms a barrier against the commercial properties on the opposite side of the road."
An online question & answer session covering the proposals will be held on 31 March between 15:00 and 19:00.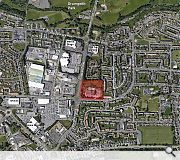 The former BOC industrial site sits within a largely residential neighbourhood
Back to March 2021