Apartment bid calls time on the decay of Glasgow's historic High Street
March 1 2021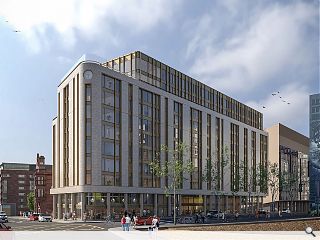 Brand new proposals have emerged for purpose-built rental apartments on Glasgow's historic High Street following a change of architect.
Structured House have brought Carson/Sall Architects on board for the prominent corner plot, reworking plans submitted by ADF in 2019 to provide 219 apartments above ground-floor commercial uses in the Central Conservation Area. The works will clear several severely dilapidated and half-demolished structures at the junction with George Street, including Old College Bar which will relocate to the ground floor of the new building, interiors and all.
Drawing inspiration from surviving warehouses in the Merchant City an abstract pressed metal spandrel frieze designed by artist Toby Paterson will run between the ground and first floors. Picking up on the corner curves of the A-listed Herald Building the facade is further elaborated with an embedded clock, a civic gesture to the street below.
Rising through eleven storeys the building will be topped by a bronze upper floor crown and communal terraces, resting atop a heavier limestone facade which will be broken up into a series of bays of varying width. A heavily glazed ground-floor meanwhile will be lined with circular concrete columns, a nod to an Italian palazzo.
Voicing their design approach Carson/Sall wrote: "The proposal has an undeniably civic nature in its design and scale. The palette, therefore, is restrained with masonry used as the primary material throughout to express the solidity of the façade, mirroring the monumentality of the TIC building and Collegelands.
"The sizing of the masonry panels responds to the scale of the adjacent elevations and create a monolithic grounding. Deep-set apertures punctuate the massing and draw reference from other grand buildings in Glasgow, such as James Miller's Union Bank and National Commercial Bank, by creating a play of shadows to accentuate the interplay of solid and void."
Existing access through Nicholas Street will be retained with direct access to George Street Shuttle Street via double-height pends. Backcourt areas around the B-listed former British Linen Bank will be given over to shared green space.
Back to March 2021