Vastint unveil 'town square' Merchant City hotel
November 13 2018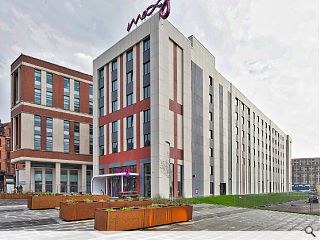 Vastint Hospitality, the property arm of IKEA, have completed work on a 181-bed hotel on Glasgow's High Street, the latest element of the Collegelands masterplan to be completed.
The Moxy Hotel has been under construction since 2016 by Robertson and includes its own bar, meeting rooms and gym.
A front entrance is set back from the street across a 'town square' with new paving, corten steel planters and seating. The main body of the hotel is finished in fibre cement panels.
David Cairns, managing director, Robertson Central East, said: "Working with Vastint, we have been able to create a modern hotel that will prove popular with guests, and the use of modularisation has allowed for quicker construction with no compromise on quality."
The modular build was built off-site before assembly in-situ and stands next to a student accommodation block delivered by the same team.

Back to November 2018