Councillors topple Speirs Wharf build to rent towers
February 24 2021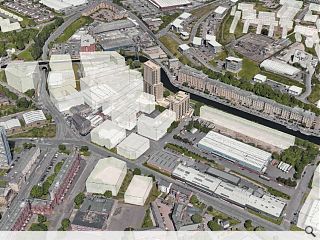 Glasgow councillors have gone against the advice of planners to refuse the construction of 182 build to rent apartments at Speirs Wharf, citing issues around their scale, location and a lack of green space.
Stallan-Brand Architects and Hocton Securities had proposed to transform the canal-side district by erecting two towers, the taller reaching 20 storeys, on land bounded by Farnell Street and Sawmillfield Street that would have opened directly onto a towpath opposite B-listed warehouses, but this was rejected by 11 members of a 15-strong panel of councillors.
Speaking to the Evening Times councillor Alan Casey raised concerns over a possible contravention of the city development plan although planners have confirmed it would be acceptable. He said: "This rings alarm bells in terms of a massive over development of this site given that the density is so high and the lack of open space that has been identified. It just seems over proportionate to what we would approve at committee and I have significant concerns about that."
Councillor Josephine Docherty added: "On the screen, this development looks wonderful and acceptable. But in my heart, I feel we are rebuilding something Glasgow rejected decades ago. The high density worries me, and I think it it's going to be a concrete jungle – it's the sort of thing we got rid of in the old days in the Glasgow Gorbals."
Reacting to the decision Paul Stallan of Stallan-Brand told Urban Realm: "It's worth noting that our Speirs Wharf design was fully recommended for approval by Glasgow's Planning team and was supported by Glasgow's Urban Design Panel. In this instance, the planning committee decided not to support their own officers advice believing the development was over dense.
"Whilst disappointed we fully respect members personal views. We confirm however that our proposals were developed in response to the City's planning policies which are encouraging greater urban density with sights set on doubling Glasgow's existing metropolitan population by 2040. Glasgow has published its commitment to delivering its sustainable 'Compact City' ambitions.
"Against this context, we will review with our client what options are available to us. We are positive there is a route forward."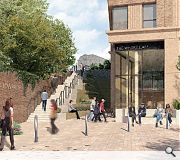 Farnell Street would have been transformed from a neglected cul-de-sac by opening up canal access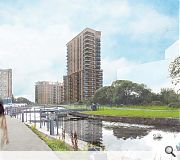 Planners were of the view that a tall building in this location could be justified as its positioning retained key views of a B-listed warehouse while acting as a symbol for the emerging neighbourhood.
Back to February 2021