Stallan-Brand double down on Speirs Locks with twin towers
March 12 2020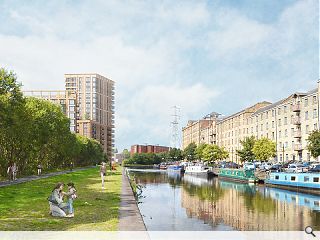 Stallan-Brand has gone back to square one with consented plans to build a major student residential scheme at Speirs Locks in Glasgow by reimagining the project as a build to rent development with Hoxton Securities.
Feeding into broader efforts to re-densify the city core and double the resident population of 20,000 by 2035 the plan calls for the creation of 203 flats split predominantly between two blocks of 20 and 13 storeys.
The twin tower approach will see both blocks benefit from a distinct style with the larger north tower introducing steps and chamfers to reduce its apparent scale and activate the roofscape. Its neighbour to the south meanwhile will benefit from an extended roof terrace, with both elements employing projecting balconies and corner windows.
Each tower will be expressed as a tripartite arrangement of a top, middle and bottom with the boundaries between each layer defined by a switch in architectural style and materials within the parameters of an overarching grid.
Explaining the split design manifests in practice the architects wrote: "…at upper levels on the north tower the materiality of the piers change to precast and the slender 'fins' creates the sense of a more lightweight 'top' with a diminishing scale as the height increases.

"The south tower, we feel, unlike the north tower only requires single storey groupings due to the decrease in height. This horizontality of the single storey expression works with the vertically expressed pre-cast piers to create an overall balanced composition."

Employing a consistent palette of brick and pre-cast concrete both towers will meet the ground with a retail or amenity space at their primary corner, opening out onto a central connecting ramp which will serve as an accessible link to the towpath of the Forth & Clyde Canal.
Back to March 2020