Nautical-themed co-living towers inspired by Clyde shipbuilding
February 22 2021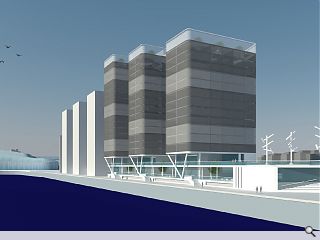 Carson Sall Architects have begun a public consultation to deliver the second phase of a major residential development on the north bank of the River Clyde at Yorkhill Quay.
Peel-owned Glasgow Harbour and Urban Pulse propose to file a joint application to deliver 410 co-living apartments with rooftop terraces overlooking the river and A-listed Graving Docks spread over three blocks sharing a ground-floor podium providing communal amenities.
Offering a combination of self-contained facilities to attract a broad range of residents the towers will incorporate a top-floor sky bar and amenity decks alongside basement cycle and parking below a ground floor shop, co-working units and a gym. Other facilities will include a cinema, local shop, tool station, launderette, gym, medical, restaurant/café bar, landscaped outdoor amenity space at ground and top floor, all available for use by the local community.
A riverfront promenade will also contribute to the active frontage which in turn offers direct access to the lower podium.
Adhering to the Yorkhill Quay masterplan set out by Keppie Design the plan sets out three nautically-inspired towers are modelled on the funnels of a steam-powered ocean liner, reflected in a landscape plan by Oobe which accentuates the illusion of a ship moving through water by mimicking the ripples and eddies of a ship's wake.
Outlining the concept behind the plans the applicants wrote: "The ship's wake is a combination of two different phenomena, the bow wave and the Kelvin wake, a characteristic wave pattern behind the ship (named after Lord Kelvin who first explained the physics of ship wakes in 1887).
"The bow wave is expressed in landform to the east of the building to create a double-sided amphitheatre responding both to the building and wider public realm.
"The turbulent wake will be represented in the emerging proposals for the green space on the west which will be expressed through both the hard and soft landscaping."
On the first floor 'main deck' flowering plants and grasses will be specified to appear as sea spray amid wave-like seating and benches. Feedback on the proposals is invited online through to 19 March.
Back to February 2021