Edinburgh office re-clad to improve first impressions
February 16 2021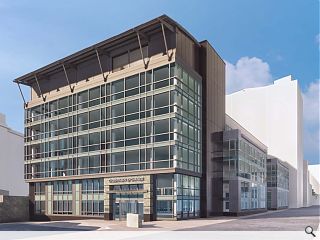 Investment management multinational BlackRock has applied to replace cladding at Caledonian Exchange, an existing office building at 19A Canning Street, Edinburgh.
Specified by CDA Architects the new facades will replace a coated metal system installed in 1998 which has now reached the end of its useful life.
Outlining the design principles behind the interventions CDA wrote: "The existing metal cladding has been subject to accidental damage and at areas of solid cladding proposals will raise the height of the existing stone base course material to provide a robust, high-quality finish at street level.
"Existing small format, circular, faux 'windows' on two gables don't provide modelling or animation to the building elevation as these are flush with the cladding and into service riser voids only. These have stained the original façade and date the building's appearance; they are omitted in the proposals."
Replacement cladding mixes black vertical sheets to the rear of the main entrance block pared with contrasting pale grey cladding to the rear wing.
A brise soleil and exposed rooftop structures will also be painted to match the new look.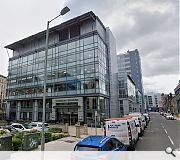 The current facade suffers from dented and discoloured cladding
Back to February 2021