Eyemouth windfarm hub to be a breath of fresh air
February 9 2021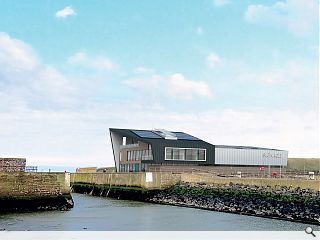 Corstorphine + Wright Architects are to break ground next month on an operations and management facility for Neart na Gaoithe at Eyemouth Harbour.
Situated in the Gunsgreen area of the town the design has been tweaked following feedback from Scottish Borders Council to employ stone-coloured render and fewer accent colours to help blend with the landscape.
Designed to service an offshore wind farm, which is scheduled to commence operations from 2023, the 1,040sq/m facility will be joined to a 538sq/m storage warehouse.
In a design statement, the architects commented: "The articulation of the building into two elements, reflecting the two different use groups was an early principle that has been retained. This allows the roofline of the different elements to vary in response to the different needs of the office and the warehouse. The two elements have been viewed as being related, however; with similar forms and materials that sit comfortably together and a complementary composition.
"The roof of both elements has been expressed as a continuous material that wraps up and over each element in turn from north to south, framing the east and west 'faces' of the building in a different material."
Site enabling works are already underway for the project which follows the announcement of a winter garden at the Old Fishmarket.
Back to February 2021