Fishmarket winter gardens to bootstrap Eyemouth Harbour
January 19 2021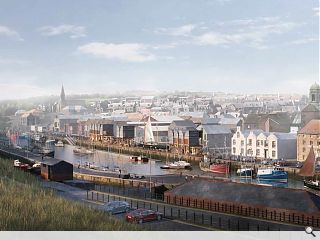 Eyemouth Harbour Trust has commissioned an ambitious regeneration package for the disused Old Fishmarket, latterly a Maritime Museum, after securing public funding.
With a remit to maintain, preserve and improve the current harbourfront Galmstrup Architects propose to demolish the 1960s building, replacing it with a series of three small pavilions of up to 90sq/m, incorporating winter gardens for al-fresco dining, events and community use, with office rental pods above modelled on traditional boathouses.
Eliminating blank frontages, ground floor units will be fully glazed with large bifold or patio doors opening towards the quayside with the spaces between each pavilion left as public open space.
Employing timber construction, combining both traditional hardwood joinery and prefabricated Cross Laminated Timber the new pavilions will be setback to allow a wider promenade to be formed and include a feature roof which alludes to the harbour sailboats and building gables.
Detailing their approach Galmstrup wrote: "The pavilions reinterpret the traditional gable language with slim modular units set in two directions. The vaulted roof feature brings an innovative profile to Eyemouth as a gesture to the harbour and reference for visitors, resembling the world of boats and their enormous soft arched sails.
"The ground floors are open, permeable spaces and the upper enclosed space reinterpreting the traditional market and warehouse typologies.
"A timber structure is proposed instead of the conservation areas traditional usage of red sandstone. This way the pavilion structures remain a lightweight and softer appearance suitable for the freestanding location along a promenade while mimicking the traditional architectural language of Scottish fishing huts."
In the process, it is hoped to establish a regional destination which can augment the old town and festival calendar.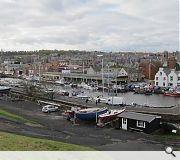 As an intermediate step the concrete slab of the existing building will be levelled and covered with gravel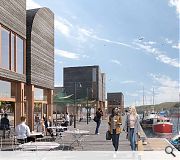 Open spaces between pavilions will be surfaced in crushed seashell gravel, only covered over during the summer season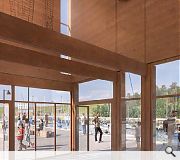 Quarter vaulted roof modules can be rotated in two directions to provide character
Back to January 2021