Council homes realise Granton Waterfront potential
February 4 2021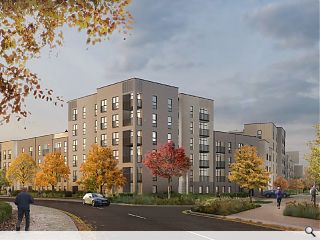 A major residential development at Granton Waterfront has taken shape with the submission of plans for 444 tenure-blind flats by CCG and Cooper Cromar on behalf of The City of Edinburgh Council.
Part of a renewed focus on the former industrial belt Western Villages will form a key plank of the authorities broader ambitions for the area by adopting active travel routes for pedestrians and cyclists, direct street access to ground-floor flats and communal open spaces at the heart of each block.
Homes will have direct access to Forthquarter Park and to the beach along West Shore Road, with blocks positioned to take advantage of views toward both. Recessed corner and inset balconies will provide visual relief to the brick facades with taller six-storey elements forming a 'gateway' entrance off Marine Drive.
Mindful of the harsh seafront climate the architects have pledged to factor in the effects of exposure in their specification, stating: "The choice of external materials has been carefully considered and the poorly weathered condition of the adjacent rendered and clad residential blocks to Colonsay View noted.
"We propose a unifying single brick to the ground floor level and corner returned feature blocks which will allow a consistency to be delivered across the breadth of the development, with three further facing bricks breaking up the facades into varying widths of panels to reflect both core and flats widths reflecting traditional feu ownership plot widths."
Projecting brick detailing and corten cladding will provide further interest by highlighting details such as setbacks and entrances.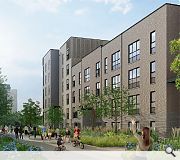 OOBE will lead the landscape design around five individual blocks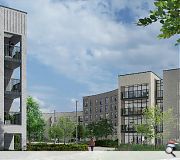 Pedestrian priority streets will connect the blocks, complemented by ornamental planting and rain gardens
Back to February 2021