B-listed Shetland laird's house to be demolished
February 2 2021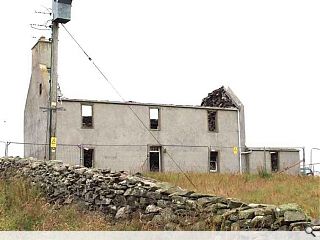 A B-listed former laird's house at Yell on the Shetland Islands is to be demolished following an extensive fire in October 2019 and subsequent structural collapse of the north gable.
The Gloup Haa has been left as a deteriorating shell following a devastating fire which destroyed the roof and structural timber supports, leaving only the random rubble stonework of the main facades still standing.
In a statement, Malcolmson Architects wrote: "Unfortunately, the loss of original fabric has resulted in the loss of the buildings historic value and significance. The building is in a dangerous condition that will deteriorate over the winter period with heavy rain and high winds putting additional stress on the weakened structure.
"The building should be demolished as a matter of some urgency and the works carried out in a way that minimises risks to the contractor and neighbouring properties. The debris should be removed, the site cleared and made safe. The stone boundary walls are largely intact and should be retained and protected during demolitions."
A study conducted by engineers Mott MacDonald found evidence of major alterations carried out in the nineteenth century when the roof and floor levels were raised and windows were realigned.
Back to February 2021