Three-point blueprint to save struggling town centres published
February 3 2021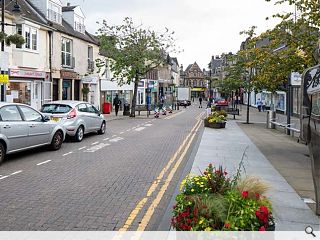 An independent review group has published three key recommendations to arrest the decline of town centres.
Chaired by Leigh Sparks, professor of retail studies at the University of Stirling, A New Future for Scotland's Town Centres articulates the steps necessary to make secondary urban centres more attractive places to live, work and play.
Chief among these is for towns and town centres to be prioritised in national planning with a requirement for development plans to be authored with a greater focus on measurement and data.
The report also recommends a review of tax rates as well as the introduction of a digital tax and a levy on out of town car parking to incentivise changes in behaviour. A moratorium on further out-of-town development is also supported.
Finally, the review calls for investment in town centre living, digital skills and greater support for small businesses. The group also urge a redoubling of efforts to tackle climate change through retrofitting of existing buildings, new green space and active travel routes.
Sparks said: "The current narrative is too often about the decline or death of the town centre. This is not the case in many of our towns but we can do more and better for all towns. Decline is not inevitable."
Phil Prentice, chief officer of Scotland's Towns Partnership added: "We are beginning to see the unfortunate economic casualties of Covid-19. The crisis has undoubtedly accelerated the need for us to reimagine how we best use our town centres to sustain jobs, build community wealth, embrace digital opportunities, tackle climate change and so much more. This work must happen at pace.
"The pandemic has led to everyone living more of their lives locally. By embracing the spirit of localism which has been so important to the last year and acting on the review group's recommendations, we can build a stronger future which has towns at its heart."
Projects such as the Midsteeple Quarter in Dumfries are touted as exemplars for realising this future where towns condense around their historic cores.
Back to February 2021